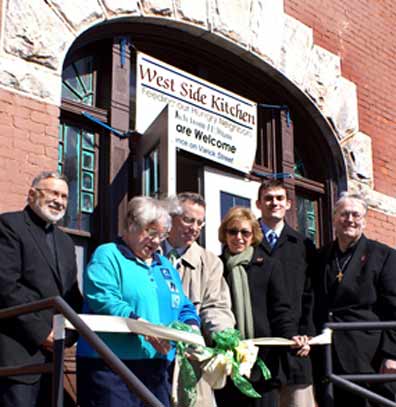 RCIL Honors Deacon Gil, Volunteers; Meals Top 65,000

UTICA, NY, Oct. 24, 2010 --The Resource Center for Independent Living (RCIL) presented its Community Support Award to Deacon Gil Nadeau and the volunteers of Mother Marianne's West Side Kitchen during that advocacy agency's annual meeting on Oct. 19 in Utica.
When Deacon Gil accepted the award on behalf of soup kitchen volunteers, he was quick to point out that "it is not awards that motivate this ministry."
He said: "Our mission and purpose for what we do, is centered on one simple plea, one simple directive given to us by one of the greatest men that ever lived, Jesus Christ. It is what many have called 'the Golden Rule' – 'Do unto others as you would have them do unto you.' This is not only a Christian belief; it is a common belief of all caring faiths and of believers and non-believers alike."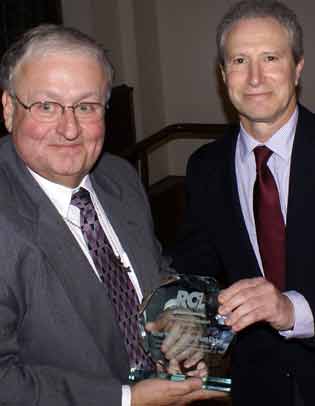 Deacon Gil Nadeau (l) accepts award on behalf of soup kitchen volunteers from RCIL's David Lowitz.
In presenting the award, David Lowitz, operations manager for RCIL, noted that Deacon Gil saw a need and "had the vision and will to provide the impetus" to what is now Mother Marianne's West Side Kitchen. "As he would tell you, it has definitely been a team effort." Looking at some of the volunteers who came, Lowitz said: "Thank you for what you do."
RCIL, which serves people with disabilities from Amsterdam to Utica to Watertown and the Adirondacks, has worked with the soup kitchen to provide services and referrals to patrons seeking assistance.
Lowitz also noted that the parish center at St. Joseph-St. Patrick Church, where the soup kitchen is housed, hosts meetings of the Mohawk Valley Homeless and Housing Coalition, and that the deacon's concern for homeless young men is resulting in the establishment of the John Bosco House, expected to open in late January.
Deacon Gil recounted how a simple altar call to help serve the hungry of the neighborhood resulted in volunteers immediately stepping forward. "From the time our first volunteer coordinators sat down to plan this ministry, it was 18 days until we opened our doors. Since then we have served some 65,000 meals. This is an especially significant number since we serve only lunches."
He added: "The need is constant, the need is there and growing… The need is not only about hunger… The need is also in housing and homelessness."
Noting there has been a void in addressing housing for the homeless in the area, he said: "The specific need is for a transitional residence and life-skills training center to serve homeless and runaway young men, 16 to 21 years old."
In collaboration with the Homeless Coalition and the City of Utica Action Plan, Deacon Gil said, he and a group of deacons began the John Bosco House project.
"Don't expect to do this in 18 days like the soup kitchen," he said he was warned. "This one will take three years." He said the shelter is expected to open Jan. 31, 2011, which makes it "about two years in the making."
He thanked "many social service agencies" that aided in the effort, along with the Community Foundation of Herkimer and Oneida Counties Inc., which awarded $100,000 in start-up funds. The deacon also offered a special thankyou to the Diocese of Syracuse and Bishop Robert Cunningham for gifting the former St. George Church property on Lafayette Street for the project.
In addition, the Mohawk Valley Community Action Agency donated 12 full bedroom sets, and "many local businesses and individuals have given in-kind donations and assistance." John Bosco House will initially house six young men, he said, with around-the-clock live-in supervision. Eventually, he said, the shelter will house up to 18 young men.
The soup kitchen serves lunch Monday through Saturday to the working poor, the unemployed and the homeless. Located at St. Joseph-St. Patrick Parish Center, the soup kitchen is named after parish daughter Bl. Mother Marianne Cope, missionary to the lepers of Hawaii's Molokai.
###