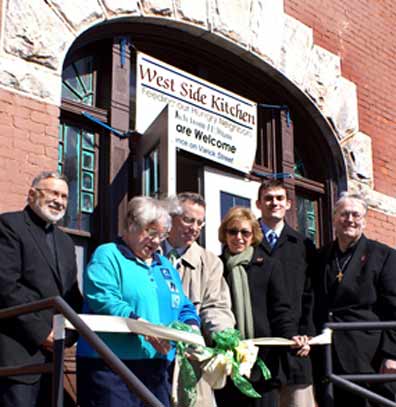 New Walk-In Freezer Boosts Soup Kitchen's
Effort to Feed Homeless, Jobless, Working Poor
UTICA, Sept. 10, 2008 -- Mother Marianne's West Side Kitchen on Sept. 10 held a ribbon-cutting and blessing for a walk-in freezer that was installed to meet the growing demand for assistance at the West Utica soup kitchen.
The 7-foot by 9-foot freezer was made possible by a $9,899 grant from The Community Foundation of Herkimer and Oneida Counties, Inc., and its Richard W. Couper Memorial Fund and Leroy and Hazel Scheidelman Fund.
"The new freezer unit couldn't have come at a better time," noted the Rev. Deacon Gil Nadeau, West Side Kitchen director. "On the day it was installed and turned on, two smaller residential-grade freezers died. It also was the day we served lunch to a record 119 guests."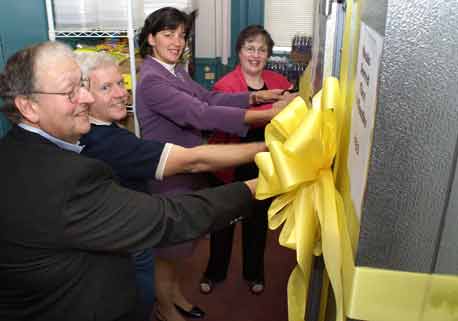 Located in the St. Joseph-St. Patrick Parish Center at Columbia and Varick streets, the soup kitchen has seen a steady increase in "guests" since opening its doors March 10, Deacon Nadeau said.
"We served 642 lunches that first month. Last month (August) we served 1,743 meals. That included a cumulative 252 children, 1,455 adults, and 36 elderly. From March through the end of August, we have served a total of 8,442 meals."
He added: "It's all made possible by a cadre of volunteers and through donations of goods and money."
The "guests", he noted, include "the working poor, the unemployed, the homeless, pregnant teens, moms with infants and young children, and the elderly."
Deacon Nadeau said that in an effort to advocate on behalf of soup kitchen guests, he has met with staff at the Resource Center for Independent Living (RCIL). In June RCIL sent an outreach team to West Side Kitchen to see the need first hand. The team did a survey of 62 of the guests present that day, he said.

"This has been a very humbling experience for all of us," one RCIL staffer told Deacon Nadeau.
She shared the results of the survey. Of the 62 guests interviewed:

-- 49 (or 70 %) needed employment.
-- 41 (66 %) needed help with food.
-- 40 (65 %) needed clothing.
-- 33 (53 %) needed assistance with transportation.
-- 21 (34 %) needed medical help.
-- 17 (27 %) needed shelter.
-- 14 (23 %) expressed the need for counseling.
-- 13 (21 %) needed help with the cost of utilities.

"While the numbers confirmed our belief that we are serving the homeless, the jobless, and the working poor, they're still shocking," Deacon Nadeau said. "Some 27 percent of our guests were living on the streets, and 70 percent were unemployed."
The soup kitchen is named after Central New York's future saint, Blessed Mother Marianne Cope, who grew up in West Utica.
The walk-in freezer was installed by Walters Equipment Service of Remsen and Vogel Electric of Yorkville.
The Community Foundation has been a force for improving lives and promoting philanthropy throughout Herkimer and Oneida counties since 1952 and has made more than 3,800 grants totaling over $26.8 million. Grants are generated by more than 240 funds that comprise The Foundation's endowment, established and advanced by area individuals and families.