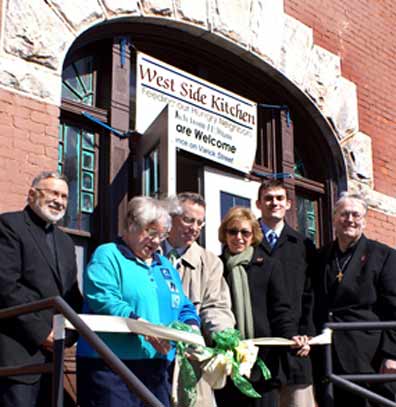 Soup Kitchen Hits 50,000 Meal Milestone

UTICA, May 10, 2010 -- Mother Marianne's West Side Kitchen hit a new milestone this past month, serving more than 50,000 meals since opening its doors March 10, 2008, announced Deacon Gil Nadeau, director.
"By the end of April, we had served 50,978 meals," kitchen supervisor and volunteer coordinator Vicki Montalbano noted. "Already this year we've seen a 30 per cent increase over last year at this time, serving 8,866 meals vs. 6,789 during the first four months of 2009."
The increase came as no surprise, she said, "seeing first-hand the ever-growing numbers" of hungry neighbors.
"What did come as a surprise," Montalbano added, "was the over 50,000 blessings that have flowed from the privilege of serving. Volunteers express to me every day the blessings they have received from working with each other and our guests. Our guests express the same. God and the community have been very generous to the kitchen. As we pray daily that the need for our mission to feed the hungry will decrease, we also give prayers of joyful thanksgiving to able to come together as Mother Marianne's family, volunteers and guests alike. After all, 'all are welcome at Mother Marianne's West Side Kitchen'. And it shows!"


The soup kitchen serves lunch Monday through Saturday to the working poor, the unemployed and the homeless. Located at St. Joseph-St. Patrick Parish Center, the soup kitchen is named after parish daughter Bl. Mother Marianne Cope, missionary to the lepers of Hawaii's Molokai.
###