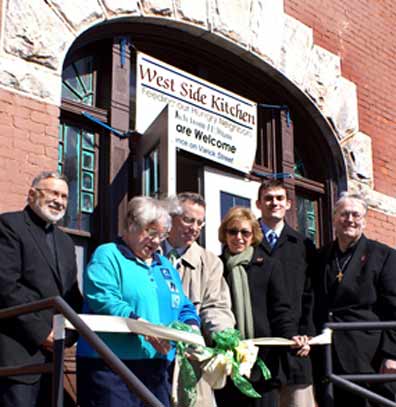 Soup Kitchen Hits Milestone: 40,000 Meals

UTICA, Dec. 13, 2009 -- Mother Marianne's West Side Kitchen has served over 40,000 meals since opening its doors to the homeless, the jobless and the working poor in March 2008, Deacon Gil Nadeau, director, announced in an
Annual Report
distributed at weekend masses at St. Joseph-St. Patrick Church Dec. 12-13.
The soup kitchen, which serves lunch Monday through Saturday, hit the milestone in December.
Deacon Gil noted that, while it is sponsored by the parish, West Side Kitchen "is and will continue to be self-supportive."
To date, he said, the soup kitchen has been entirely supported by donations from parishioners and the community, plus several grants from the government and private agencies.
The soup kitchen is run out of the Parish Center. "With the grant monies, we have been able to upgrade our Parish Center kitchen and add much-needed equipment and fixtures costing $22,000," he noted.
"In these times of economic uncertainty, rising unemployment and growing social needs, we are offering a much-needed service to our community," Deacon Gil said. "Offering hospitality to the needy is an integral part of what a parish needs to be in the Church and to the community. Our bishop recognizes and appreciates our efforts to assist the needy. Local government has supported our efforts with recognition awards. The media has also taken a special interest with many supportive newspaper articles and TV reporting."
Pointing out that the soup kitchen is an all-volunteer operation, with no payroll expense, he gave a financial report covering March 2008 through November 2009.
During that 21-month period, he said, the soup kitchen received $33,852 in donations and $32,990 in grants, and spent $40,998 on food and supplies, and $25,854 on equipment, repairs and other expenses.
###